Green Schools
Activities > Green Schools
Our Senior Green School Committee 2018/19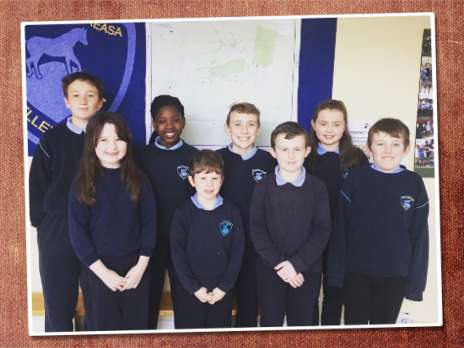 Green Schools Programme
Scoil Naomh Treasa has been involved in the An Taisce Green Schools (which is known internationally as Eco-Schools) programme for a number of years. We are very proud to have earned three separate Green Flags to date, for our work in the following areas.


• Litter & Waste - Reduce, Reuse, Recycle
• Energy - Conserving Energy
• Water - Water Conservation
In 2018 we decided to embark on a new Green Flag - Transport. The programme will take two years to complete and to date lots of hard work has taken place. Caroline Murphy from An Táisce has been helping us along the way too. We have a very dedicated Green Schools committe with a representative from each class, and two from fifth and sixth leading the way. Staff members on the team are Ms Swinburne, Ms O'Mara and Mrs Gillian Victory.
Learning about idling
Walkability Audit